I am so excited that this September I got a chance to join in the fun with 30 days of lists challenge. I have registered earlier this month and I am so enjoying the fun at 30 days of lists personal blog and forum. Love to me other listers like me.
Anyway for the bonus list , the #30Lists team joined forces with the September 2012 Ambassadors and Sponsors to host a blog hop. Check out what they are having this week.
As for me, since right now is still Ramadan and the desire to eat a lot of delicious food has diminished, here are what I wanted to eat or already ate this week.
I made this template using Now and Then Kit by Jenn Barrette. Then I convert the layout into pdf, export them to my Note Plus apps on ipad. Then I write down the list right on the paper.
I will do the same for the rest of the challenge. I will put all of the list into a digital notebook. I might print them out or not. But I like having a notebook style of lists right on my ipad.
Want to take a look at what the #30lists team are eating?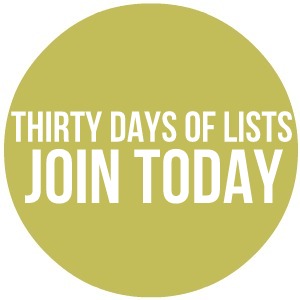 If you are inspired and want to join in the fun it is not too late to register at
30 Days of Lists
. For a small amount, you get access to the private blog and community, September's 30 list prompts, listing freebies, sponsor discounts, and if you register between now and August 15th you'll be automatically entered to win a set of Keri Smith books and a chance to win a copy of Adobe Photoshop Element 10 if they get 300 to register!
- Posted using BlogPress from my iPad